Greetings and Peace Be Upon You All,
I pray to the Almighty to Bless you all and have eternal Prosperity and Bleesing in your life and drawings...
Well, it's been a while eh? Many will ask "Do you return with new works?" My answer is "Yes".
This time, a Birthday Gift to Renee Casey Jones from MangaAcademy.com forum who requested me to draw Hatsune Miku
and Megurine Luka for his birthday (I might have missed it)...Please do scroll below to see his Gift:-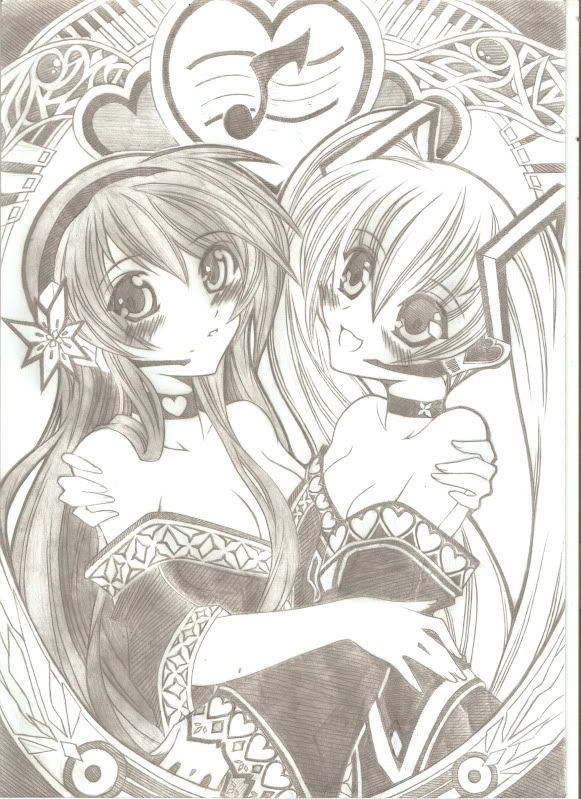 Firstly I deeply apologize to Renee for not responding for a very long time since I'm very occupied to find the right spices for his work...
Well, I have found it and here it is...I always stunned and afraid everytime since "Why do my skills seems to "manifest" itself?"
Today more than 21 times I looked at it right now since the first draw about a month ago...Many anatomical errors as usual, I do hope I can corrected it but since I
have gone to this level, maybe make a better one in future drawings...So sorry about the scan quality, I did touch it up a bit only...nevermind..TT.TT
ARRRGGHH~~ Mistakes mistakes mistakes.....I'M AN EPIC FAILURE, TO BE HONEST~!! *Speechless screams*
I wish:-
HAPPY (BELATED) BIRTHDAY TO RENEE CASEY JONES.
I PRAY TO THE ALMIGHTY TO BLESS YOU AN ETERNAL PROSPERITY, LONGEVITY, TONS OF BLESSING IN YOUR LIFE, FAMILY, FRIENDS, AND DRAWINGS.
YOU HAVE ALL OF OUR PRAYERS AND BLESSING DEAR FRIEND.
I still feeling heavily guilty for not meet his deadlines...That's makes me a very worst person and artist.
*Look at lists* More works to be done, I do hope I can return again soon..
Dozo, hopefully the knowledge it offers can be obtained and helps everyone further.
If anything, you'll know how to catch me...