Greetings and Peace Be Upon You All,
I pray to the Almighty to Bless Everyone with Eternal Prosperity, Longevity and Tons of Blessing.
As you have known, I have return with another work, this time an Art Request by Engraver78 (
http://engraver78.deviantart.com
) for his White Glint of Armored Core.
Please do scroll below to see it:-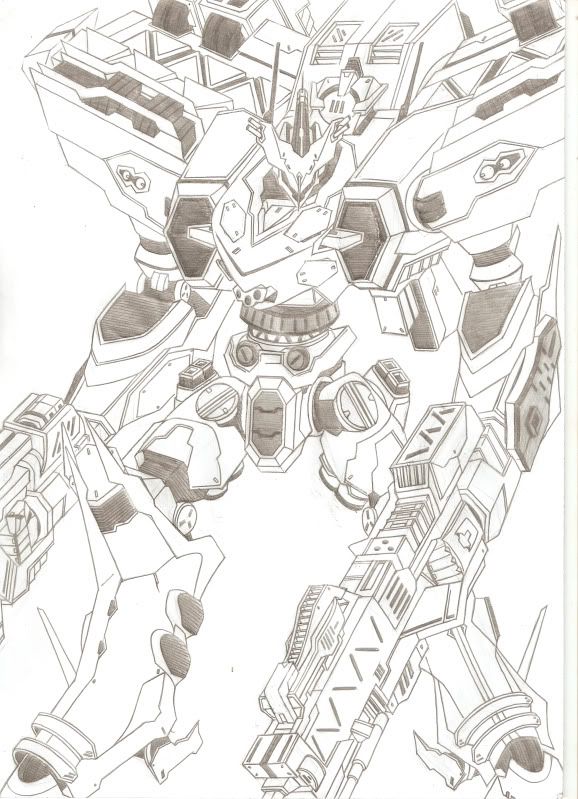 White Glint Engraver Mode
This penciling artwork was drawn on A4 with 2h pencil, 2B pencil and 2h lead mechanical pencil while listening to Touhou - Bad Apple, replay it till finish the work after more than a week.
Engraver78 requested me to draw his White Glint and I looked at the design and with big eyes I say, Oh my gosh, another challenge to push my limits.
Really, I never thought of making this design in a very big scale as I never done with... I tell myself, "Have fun, test yourself and obtain the knowledge" and perform it nonetheless.
After done it with more than a week after the day Engraver78 requested, here it is. I say to myself with both palm on my face, "What have I DONE??!! This....I'm really gonna pay for my failures *Speechless screams*"
How should I say....This is a work that shows I really need to undergo another training to improve my Mecha design, anatomy and shape.
As always, many errors and mistakes and lead to.... I can't express it, only two words, EPIC FAILURE. I can't say much, words cannot express it since I'm also speechless for now, maybe because of extreme fatigue.
But, in good way I have obtain the knowledge to perform on Mecha design and how it should be. I have done my best until it's done, that's a very important accomplishment.
Rather than done nothing and give up halfway long ago when I started drawing. Oh, The White Glint Mode I named it Engraver Mode in honoring his request.
*Look back at it* Ohoho~~ deary.... I'm really have to be prepared for my executions.... It's time or never BANZAI~~~!!!!
Everyone, please do enjoy the artwork and obtain the knowledge..
I gratefully thank you and dearly appreciate it~~X33
*See my lists* Aww dangs~~... I should've asked my Nurse to heal me...
Haha, life never bored with drawings as an artist, I'll see you all later and ENJOYS~~~!!!