○ Scone: It varies at the time of day I look at it. XD
○ Ozza: SO TRUUUUUUE! 8D
○ Pigo: Do you still have my crash-course on noses I did for Rei? I could probably find it again, if you want it. :>
○ Matt: I've never played Silent Hill, but I know the aesthetic of the game and can totally see that!
○ Joosh: Thank you!
○ Toast: It's accidental pointillism, I guess. XD This is hat a good lot of my drawings look like before I blend them, OTL. Thanks, though! <3 I'll never be as good as you with it. D:
○ Renzo: YES. |D
○ Jai: I think my art aesthetic is creepy, without being creep
er
. XD
♠ I . W A S . A . M A R I N E . I N . T H E . S I X T I E S
So in philosophy we got this substitute teacher that just stood around the lectern and blathered on about being a marine in the sixties. So yeah. I went to the museum and looked at the Alaskan WWII exhibit on Sunday, so you get another gasmask baby. D: It has nothing to do with being a marine in the sixies, but when he talked about it, that's what it reminded me of. I drew this on the back of a school newspaper I found on my desk. Psssh, nobody reads our school paper, anyway. I wish I had a darn ref half the time, haha.
I don't remember where the quote came from on the corner of the top one, sorry.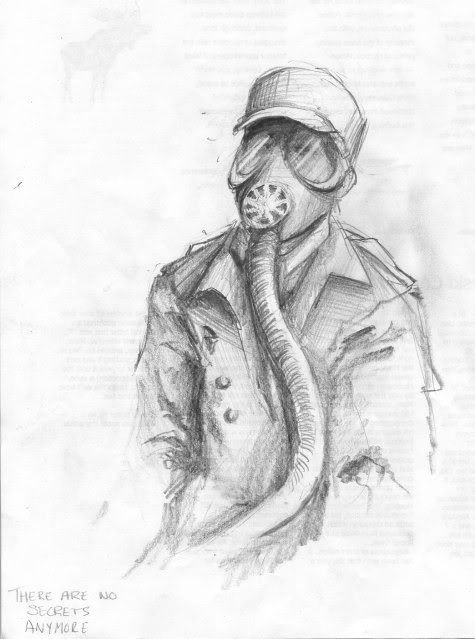 [Blayne Walsh, lolololol.]