So, here's my thread. And here are my ideas.
My main aim is to make an ongoing webcomicy-manga and post it up on Smackjeeves or something; and I've got 3 general ideas mapped up in my head. Here, I'll post the general sypnosis of those stories.
I'm a lazy little person, so making several projects at once will probably blow up my brain. So, if you, the (probably) kind reader, could vote which one you think is the best, I'll be a very happy Doctor.
Critique and reviews are music to my ears. Be as hard and rough as you like.
That did NOT sound right.
PLOT 1:
The Coffee Shop At The End of The World
The sun has gone out. Earth is now a deserted, dark, mess of a planet. Humanity squirms, clinging on to life. Mr. Scott has lost his contact lenses. It's the end of the world.
In a city made of dust, once known as New York, there is a small hill. On that hill, the lights are on.
And the Coffee Shop at the end of the world is open.
A light-heated, post apocalyptical, black humor story. A sort of parody of all those shows and stories that take the end of civilisation too seriously; but I do plan it to dip into some darker territories.
Early sketches: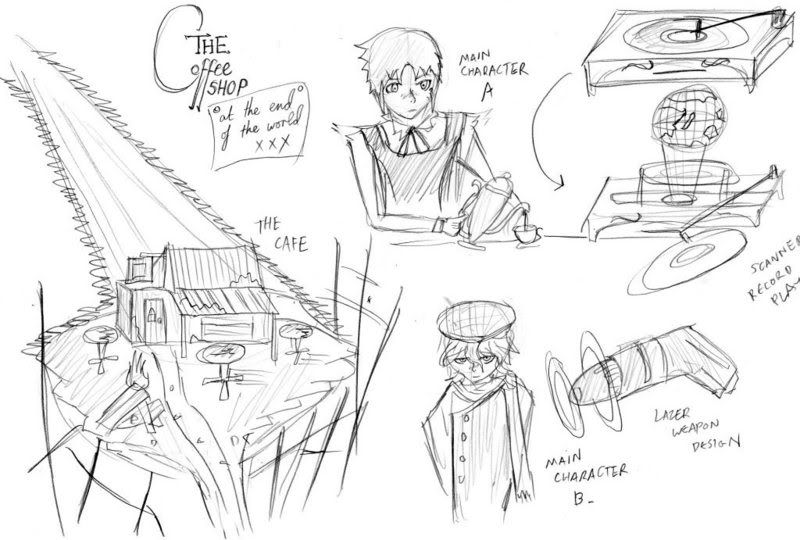 PLOT 2:
A General That-Way Direction
Tomo is bored of everything. Bored of the same mind-numbing job at the shop, bored of being mistaken for a man, and ultimately bored of life.
Living in a tiny apartment with her playboy of a cousin who brings home his partners (regardless of genders), going to her work to meet her annoying 'friend' and eating cup noodles everyday, she's given up on life.
And then, she meets the Janitor.

And finds herself running the Tokyo Marathon.
My attempt at the sports, romance and comedy genre. I personally find romance stories and some sports stories extremely tedious and annoying, so I thought I'll spin it with my own take. And thus, this was born.
My favorite, most fleshed out story, but at the same time, I don't think anyone will bother to read this.
And sorry, no picture for this one. ):
PLOT 3:
The Korporation
Yup, it's a criminal organisation.
Hm-hmm, it legal.
That's right, it's run by a lunatic.
No-one knows why.
Yes, it's spelt wrong.
Again, no-one knows why.

In the building with the hole in the wall, behind the heavy mahogany door, there's a world of mayhem, chaos, and endless rattles of gunfire.

You'll never by bored again.
A black comedy adventure, crime story following the adventures of the Boss and his Secretary. My attempt at writing something witty. Also, if I chose to make this, I would absolutely love some co-writers.
Quick Character Sketches:
Boss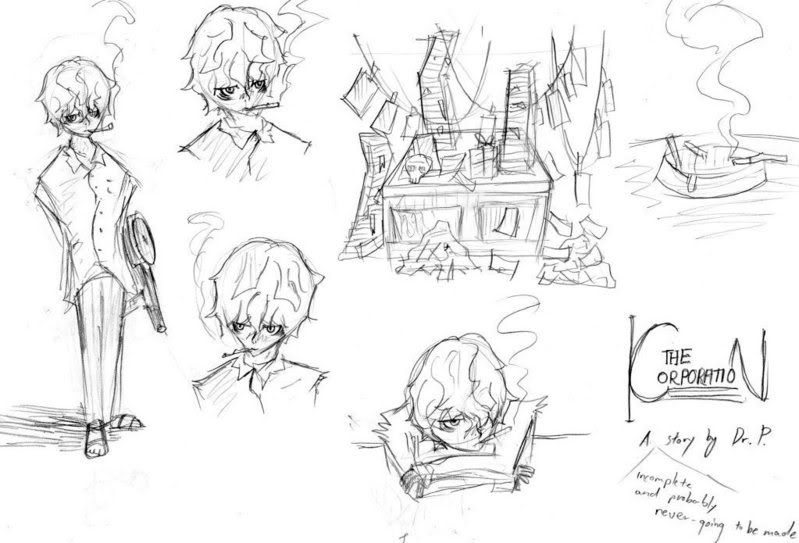 Secretary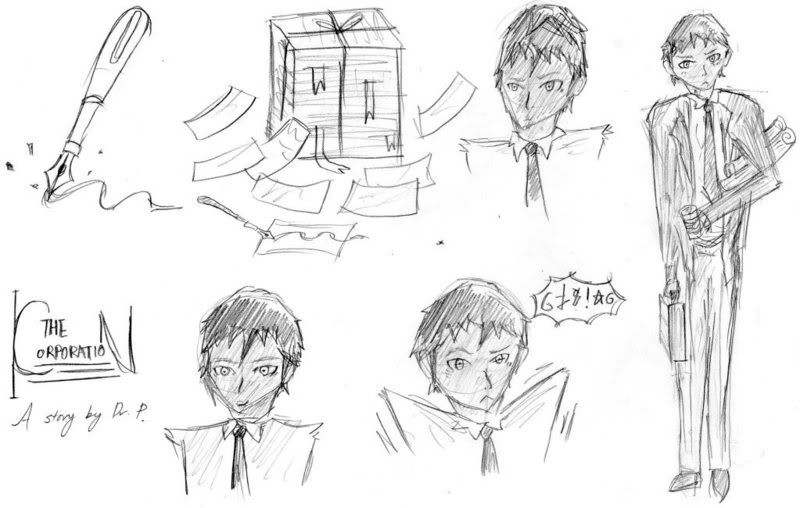 (Yup, autonomy's wrong in some areas. Art critique is lovely too, by the way, but I don't think this is the place to do so.)
--------------------------
So, peoples.
Please pick one in the poll above! (Unless they all suck or no-one visits this thread, or if you're just evil).