○ Matt: What wrap are you talking about? D:
○ Zi: You're welcome. I guess. Lol.
♠ S t y l e w h a t .
I binged out on the webcomic,
"Hanna is Not a Boy's Name"
this weekend and FINALLY got caught up in it (<3333). The art is amazing, and yeah. I don't really know what that had to do with anything, but here are some sketches. They took like ten minutes each, and they all turned out better than I anticipated, which is always nice. :>
Top: I dunno, he's not a character, just a random guy. Reading all that HiNaBN made me appreciate sideburns, I guess.
Bottom left: Zi's Septi. I LOVE DRAWING NECKS. THEY ARE SO BEAUTIFUL AND I ALWAYS GET CARRIED AWAYYYYYYYY. I was going to do a neck tutorial just so I could draw a bunch of necks, but I realized no one would probably use it, haha.
Bottom right: WELL. It was
supposed to be
my character Bram, who is Kéran's half brother. But he ended up looking more hipster/flamboyant than usual, so I'm guessing it's not actually him anymore. >.>
♠ + お ま け !
BONUS TIEEEEEM. My workspace just imploded with all this crap.
I wish I could only use one monitor, but I use the LCD one on the right to do my color-checking when I draw, because the fancier LED one on the left has the crappiest color calibration in the entire world. Hence why the two are fighting for space/my love on my too-small desk. AND MARVEL AT THAT KERR'S JAR OF BLEACH AND THE TINY COTTON BALL BOWL OF ACETONE ON MY DESK. *mad scientist laugh*
Then I dug all of this stuff out of my closet to be sold/actually finished/started. D| The bottom row of diddles are oil paintings I made by using plate transfers (HAAAAATE). Then some of my older stuff, which you've seen. I'm not sure if I've shared my hobo-Abe-Lincoln-cameo-under-a-tree painting yet, though....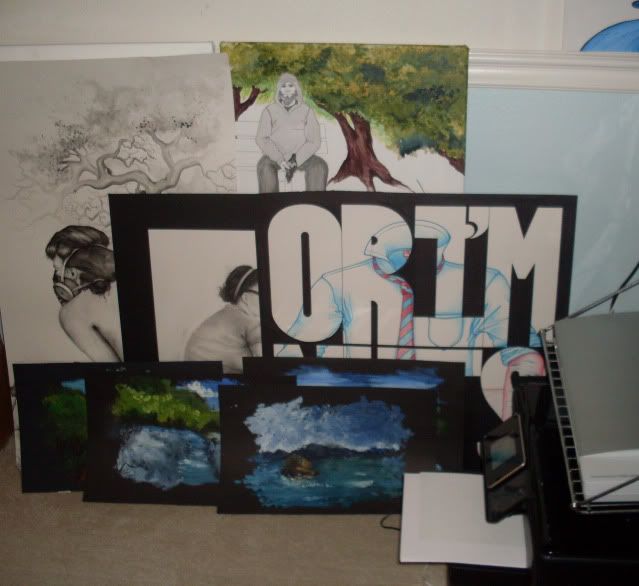 ANDANDAND! I CLEANED MY DRAWERS. IT'S INCREDIBLE. (
So
incredible that I felt inclined to share it, derpderp.)
Top drawer: All the things I plan to/need to customize: some shoes, a hat, and some other things. On the left is an old sumi set and 5 years worth of old lose-leaf drawings under it. The white and the grey shoe are the same kind of shoe, but on the grey one I stripped the white outer coating of the leather off with acetone.
Middle drawer: 4.48972 billion markers for making shoes (there's another bag of them stuffed into the back of the drawer that can't be seen at all in this photo), extra shoelaces, RIT dye, colored pencils, fixative, rice paper, bristle brushes, sponge brushes, templates, acrylic paint, watercolor paint, gesso, pastel pencils, AND A
CRAPTON
OF LEATHER PAINT (the bottles/half-gallon things in the middle with the red labels).
Bottom drawer: 13 or so sketchbooks from over time. Extra matboard and mat frames I've collected for future use.
I didn't even know I had all this stuff until I went through it all. @_____@" So expect some traditional art soon, perhaps!